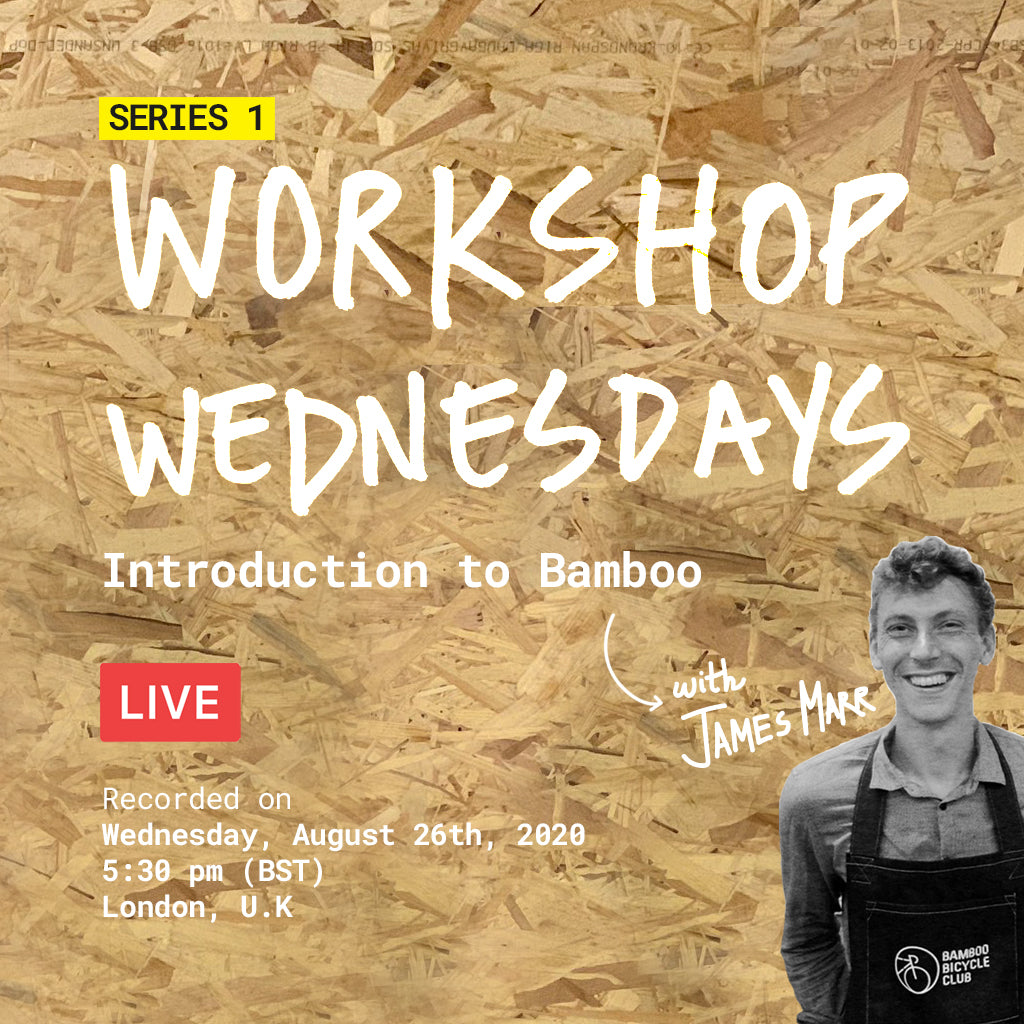 Workshop Wednesdays, Series 01, Episode 01
Introduction to Bamboo with James Marr

🔴Recorded live on Wednesday, August 26th, 2020 at 5.30 pm (GMT) in London, U.K 🔴
Our first live session was an introduction to bamboo where our audience tuned in to learn how to work with bamboo and select bamboo for bicycle frames. We also offered tips and techniques for other arts and craft projects in addition to bicycle building. James discussed strengths and weaknesses of the material, tackled some truths and myths such as "can it really grow so fast you can see it growing with your own eyes?" and much more.
▬ Contents of this video  ▬▬▬▬▬▬▬▬▬▬
0:00 - Intro
0:15 - Why live workshops
1:30 - Topics for the live workshop
2:22 - Background to bamboo as a material
3:12 - Using bamboo for bicycles
4:30 - Benefits of using and growing bamboo
5:40 - Demo of unique properties of bamboo
7:08 - Challenges working with bamboo
7:26 - Demo of drinking beer in bamboo mug
8:34 - Cell structure of bamboo vs wood
9:11 - Understanding how bamboo grows
10:55 - How to select bamboo for building a bicycle frame (Part 1, General tips)
16:39 - Beer top up in bamboo mug   
17:36 - How to select bamboo for building a bicycle frame (Part 2, Front Triangle)
20:34 - How to select bamboo for building a bicycle frame (Part 3, Rear Triangle)
23:37 - Types of bamboo to use for bicycle building
24:40 - Some joining techniques and what you can make and working with bamboo
31:20 - How you can learn more about bamboo
31:42 - End of first live workshop wednesday
32:48 - Questions from our live audience
37:00 - Tools needed to build with bamboo at home
38:55 - Laminated tube example for a bamboo bicycle frame
40:42 - Sign off
Our live #workshopwednedays videos will help you to learn more about bamboo bicycles, tips and tricks on how to fit components, maintain your bike and how to be creative with bamboo. Hosted by James Marr, a bicycle designer and an engineer, James goes live every other Wednesday to help you learn about building a bamboo bicycle and takes your questions and announces promotions and deals of the week!

🪡 James' workshop apron was made by Georgina Habgood https://www.instagram.com/geeorrrge/ from denim deadstock. She is hoping to make the sewing pattern available for free soon.

✏️ Graphic design and titles by Hasan Waliany https://www.instagram.com/herby_werby/

If you're building a bamboo bicycle frame, need help or would like to learn more about our Home Build kits, have a look at this link: https://bamboobicycleclub.org/products/lugged-kit-frame

Best way to learn about us is by visiting our Club News for detailed build reviews by our community of bamboo bicycle builders: https://bamboobicycleclub.org/blogs/club-news