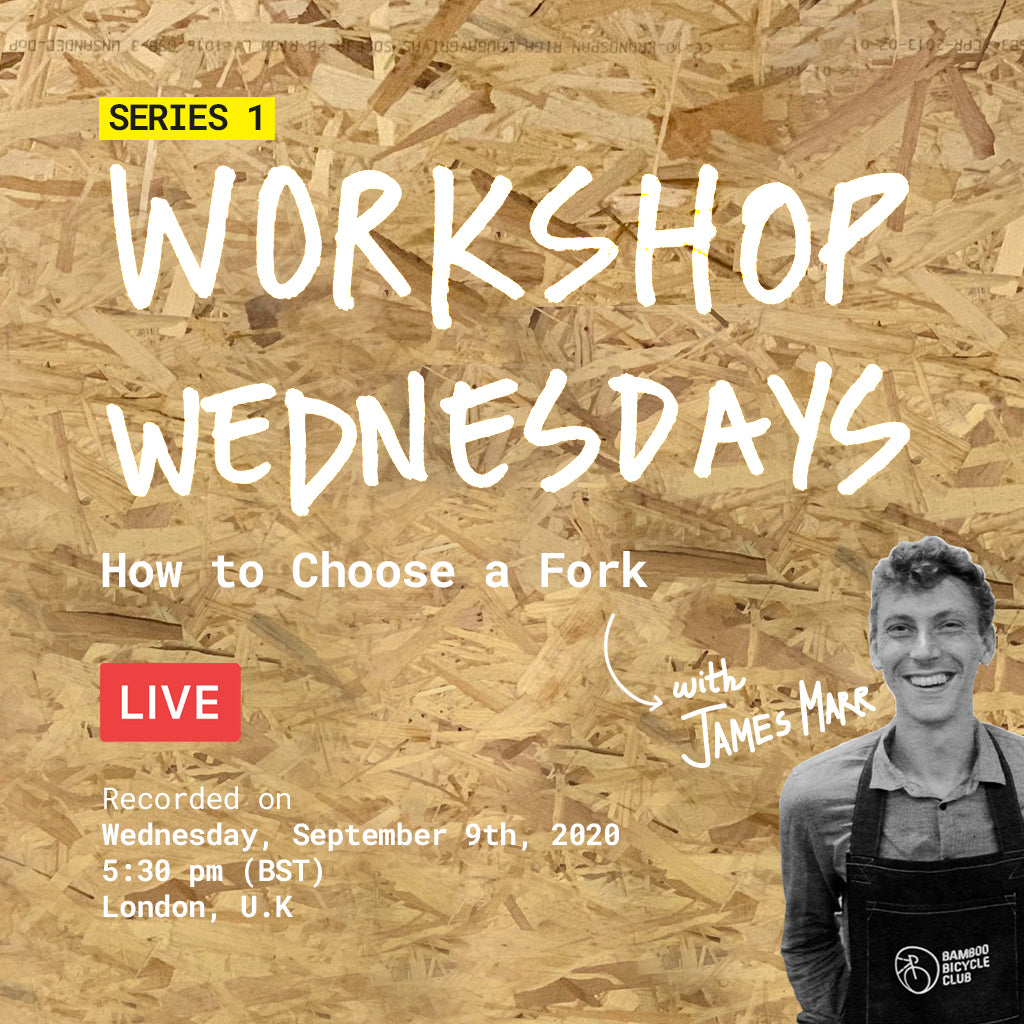 Workshop Wednesdays, Series 01, Episode 02
How to Choose a Fork with James Marr

🔴Recorded live on Wednesday, September 9th, 2020 at 5.30 pm (GMT) in London, U.K 🔴
Our second live #workshopwednesdays session focused on nothing but forks! From 'what should I think about when choosing a fork?' to materials and measurements. This live session covered the technical details and differences in the types of forks out there to help you make better decisions for your build.
▬ Contents of this video  ▬▬▬▬▬▬▬▬▬▬
0:00 - Intro
0:10 - Recap from previous live workshop
0:27 - Focus of current live workshop
0:40 - Overview of how to choose a fork
1:01 - Celebrating workshop wednesday with a beer 
1:47 - What is a fork?
2:03 - Key measurements to consider when choosing a fork 
3:56 - Different types of fork materials
5:30 - Tapered vs straight steerer fork 
7:02 - Importance of tire selection
9:10 - Different types of brake types 
10:07 - Type of disc brakes 
12:11 - Examples of calliper brakes 
14:05 - Selecting and fitting mudguards
14:50 - Compatibility with pannier racks 
15:42 - Midway summary and checklist 
16:50 - Selecting a fork for a gravel bike
18:17 - Selecting a fork for a road bike 
19:04 - Selecting a fork for a hybrid bike
19:32 - Selecting a fork for a mountain bike 
20:29 - Final summary and checklist 
21:10 - Guidance on selecting a fork 
22:17 - Announcing the next workshop 
22:46 - Questions from the live audience 
22:58 - Advice for brakes on a tandem bicycle
24:31 - Tapered fork, frame compatibility and tapered head tube for a mountain bike 
25:46 - Calculating clearance required 
27:06 - Beer swig from new bamboo beer mug 🍻
28:00 - Sign off
Recommended steel forks for bikepacking, Surly Bikes:
https://surlybikes.com/parts/forks
Recommended fork for tandem bicycle, SJS Cycles: https://www.sjscycles.co.uk/thorn-tandem-replacement-forks/
--------
Our live #workshopwednedays videos will help you to learn more about bamboo bicycles, tips and tricks on how to fit components, maintain your bike and how to be creative with bamboo. Hosted by James Marr, a bicycle designer and an engineer, James goes live every other Wednesday to help you learn about building a bamboo bicycle and takes your questions and announces promotions and deals of the week!

🪡 James' workshop apron was made by Georgina Habgood https://www.instagram.com/geeorrrge/ from denim deadstock. She is hoping to make the sewing pattern available for free soon.
✏️ Graphic design and titles by Hasan Waliany https://www.instagram.com/herby_werby/
If you're building a bamboo bicycle frame, need help or would like to learn more about our Home Build kits, have a look at this link: https://bamboobicycleclub.org/products/lugged-kit-frame 
Best way to learn about us is by visiting our Club News for detailed build reviews by our community of bamboo bicycle builders: https://bamboobicycleclub.org/blogs/club-news