Selecting Bamboo for a Bicycle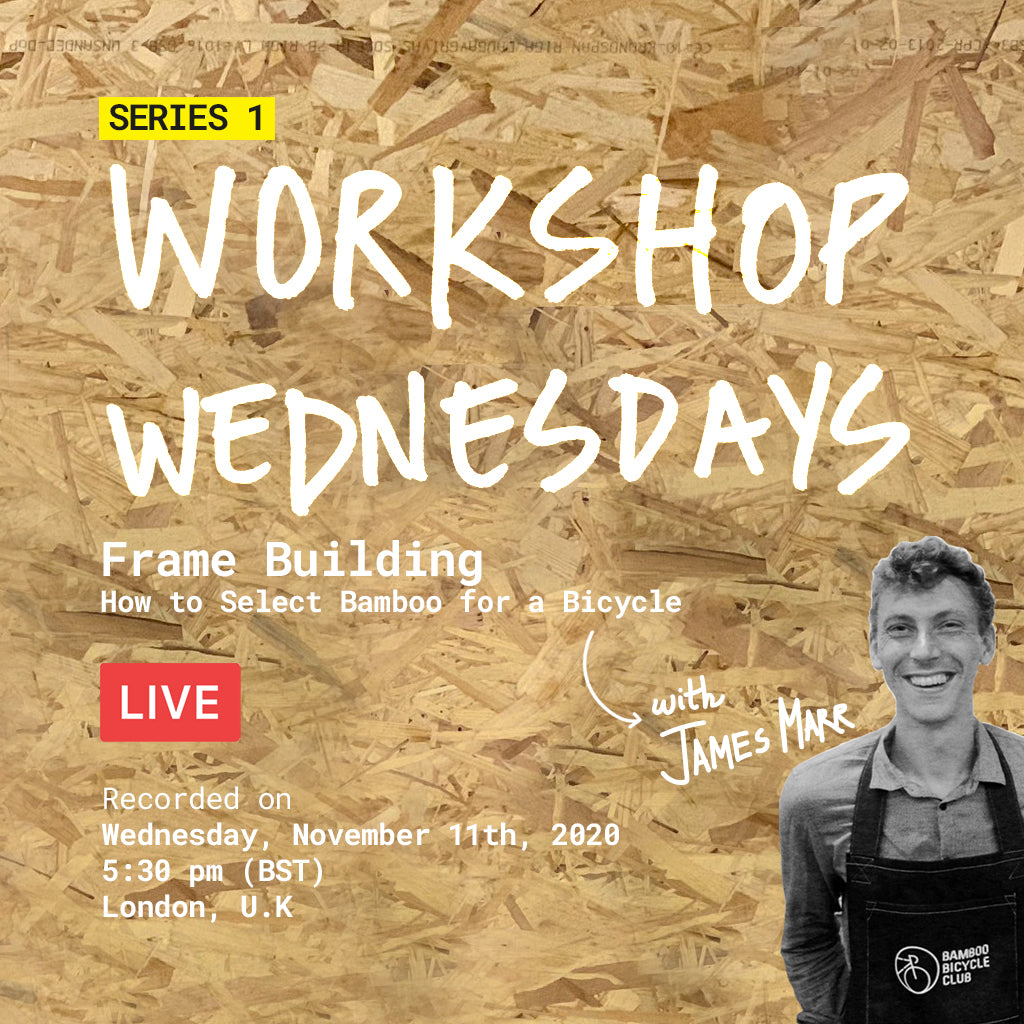 Workshop Wednesdays, Series 01, Episode 06
Frame Building - How to Select Bamboo for a Bicycle with James Marr
🔴Recorded live on Wednesday, November 11th, 2020 at 5.30 pm (GMT) in London, U.K 🔴
The bamboo you pick for your frame will determine the performance of your bicycle. For this reason, our sixth live #workshopwednesdays session ran our audience through the bamboo selection process for the front triangle and discussed diameters and nodes, followed by looking at the rear triangle, MTB yoke building and finally some custom tubing!
▬ Contents of this video  ▬▬▬▬▬▬▬▬▬▬
0:00 - Intro
0:28 - Why is bamboo a great material for a bicycle?
2:05 - Overview of workshop
2:25 - The most important step, pouring a beer in a bamboo mug 🍻
3:00 - Picking the down tube
5:07 - Selecting the seat tube 
6:15 - Picking the top tube 
6:57 - Summary of front triangle 
7:14 - Picking bamboo for the rear triangle 
7:51 - Selecting bamboo for chain stays 
8:53 - Picking the seat stay tubes 
10:30 - Summary of all steps
11:43 - Tips on growing bamboo for your bicycle
12:51 - Building a mountain bike from bamboo
14:16 - Creating different shapes and custom tubing with bamboo
15:20 - Questions from our live audience
15:32 - What type of bamboo to use for building a bicycle
16:08 - Sign off
--------
Our live #workshopwednedays videos will help you to learn more about bamboo bicycles, tips and tricks on how to fit components, maintain your bike and how to be creative with bamboo. Hosted by James Marr, a bicycle designer and an engineer, James goes live every other Wednesday to help you learn about building a bamboo bicycle and takes your questions and announces promotions and deals of the week!

🪡 James' workshop apron was made by Georgina Habgood https://www.instagram.com/geeorrrge/ from denim deadstock. She is hoping to make the sewing pattern available for free soon.
✏️ Graphic design and titles by Hasan Waliany https://www.instagram.com/herby_werby/
If you're building a bamboo bicycle frame, need help or would like to learn more about our Home Build kits, have a look at this link: https://bamboobicycleclub.org/products/lugged-kit-frame
Best way to learn about us is by visiting our Club News for detailed build reviews by our community of bamboo bicycle builders: https://bamboobicycleclub.org/blogs/club-news